TRANSGENDERS GAINING THE HEIGHTS
TRANSGENDERS PART OF OUR SOCIETY
INDIA`S FIRST TRANSGENDER JUDGE
W
e ever talk about the 21st century , century of passion , knowledge and skill. In our world society we normally talk about MAN DOMINATED SOCIETY AND WOMEN EMPOWERMENT .

BUT KNOW ONE TALK ABOUT THE TRANSGENDERS . IT IS A HARSH REALITY THAT ONE SIDE WE TALK ABOUT THE GENDER EQUALITY AND ON THE OTHER SIDE WE DISCRIMINATE THE TRANSGENDERS .
WE

NORMALLY TALK ABOUT MALE AND FEMALE . SCHOOL ,COLLEGES IN WHICH WE SUDY WE ONLY SEE BOYS AND GIRLS , WHY NOT TRANSGENDERS .
BECAUSE IN OUR SOCIETY IN WHICH WE LIVE , WE ALL ARE CLUTCHED BY THE SOCIETY AND SPECIALLY OUR BRAIN . WE THINK MORE ABOUT THE SOCIETY AS COMPARED TO OURSELF.

WE NORMALLY SEE AT ALL PLACES I.E. BOYS AND GIRLS GOING SCHOOLS AND COLLEGES . MAN AND WOMAN DOING THEIR JOBS . IN PARKS , MALLS , WORKPLACES , IN BUSES AND TRAINS , BANKING SECTOR ETC SO MANY PLACES WE SEE MALE AND FEMALE.

WE SEE TRANSGENDERS ONLY WHEN A NEW BABY BORN OR MARRIAGE AND SOMETIME IN TRAINS AND BUSES ( WHERE TRANSGENDERS SAY YOU GAIN HEIGHT OF SUCCESS OR BECOME MORE RICH AND IN RETURN WANT MONEY .
IN COMMUNICATION WORLD , TELEVISION , INTERNET ALL AROUND US . IN TELEVISION SPECIALLY IN INDIA WE WATCH MOSTLY SERIALS AND MOVIES . IN THESE TWO TRANSGENDERS SHOW LIKE A SEPERATE COMMUNITY AND DOING THE SAME THING AS ABOVE SAID.
IN ALL SPHERES I.E. SPORTS , WORKFORCE , SERVICE PROVIDERS , PERSONALITIES , BANKING ETC WE SEE ONLY MALE AND FEMALE. BUT KNOW ONE KNOWS :
1.
JOYITA MONDAL BECAME INDIA`s FIRST

TRANSGENDER JUDGE ON JULY 8, 2017.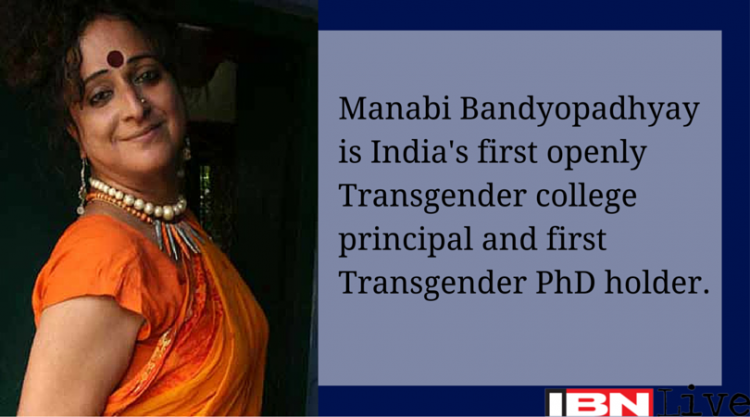 2.

MANABI BANDOPADHYAY BECAME INDIA`s FIRST TRANSGENDER PRINCIPAL ON 2015 . BUT QUITE DUE TO FED UP WITH THE GHERAOS AND AGITAIONS AGAINST HER BY THEIR OWN COLLEGE TEACHERS IN 2016.
2.1

ALSO A FIRST TRANSGENDER WHO COMPLETED THE DOCTOR OF PHILOSOPHY ( PhD ) .
3.

IN

MAY 2017 KOCHI METRO RAIL LTD , OWNED BY THE GOVT. OF KERALA APPOINTED A
23 TRANSGENDERS
IN DIFFERENT POSITIONS IN ITS WORKFORCE .
OUR SCHOOL , COLLEGES MUST COME FORWARD TO GIVE ADMISSION TO THE TRANSGENDERS . BECAUSE IT IS THE BASE WHERE WE START AND MAKE TRANSGENDERS FRIENDY WITHIN THE COMMUNITY.
GOVERNMENTS ALSO COME FORWARD AND GIVE SOME QUOTA INTIALLY FOR THE UPLIFTMENT OF THE TRANSGENDERSD.
TELEVISION AND INTERTNET PLAYS A VITAL ROLE IN THE UPLIFTMENT OF THE TRANSGENDERS BY MAKING MOVIES AND TV SERIES ON THE LIFE OF THJE TRANSGENDERS.
IN SCHOOL AND COLLEGES BOOKLETS ALSO THER SHOULD BE CHAPTER ON COMMUNITIES LIKE TRANSGENDERS .